The film tells the life story of Roman Romancini, one of the most important Brazilian mountaineers, in his endeavor to reach his greatest dream: climbing Mount Everest, the highest mountain on the planet. Starting early in his athletic career, he passes through several deadly experiences. But it was while riding a bike that he got hit by a car in an accident that almost put an end to his sport life forever. Beyond Dreams shows how Roman dealt with the chance of never climbing again, how he fought cancer, and how he kept the Everest dream alive as a motivation to overcome the recovery process.
Availability
Videos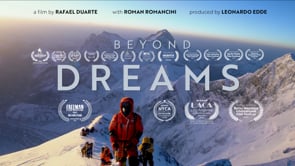 02:04
Além dos sonhos (2019) - TRAILER
Map
Video on demand
Verified links:
NOTE: This section may contain affiliate links. Please, see disclosure on footer.
Classification
Genre
Based on
About
Locations
Film credits
DIRECTION
PRODUCTION
WITH (STARS)
Sponsors
Help us updating film data
Other titles
Beyond Dreams
Au-Delà des Rêves