The perception of a place, the idea we create of it and the emotions it arouses in us are closely linked to the type of interaction between different aspects. Carie is the discovery of a new dimension of climbing but at the same time an excuse to stop and reflect on what it means to maintain a balance between safeguarding the environment and human development, creating a multiparty discussion on the matter. It is a journey that began in one way and was transformed during the course of the project, one piece at a time, thanks to a succession of encounters during the search for possible climbing routes in the marble quarries of the Apuan Alps.
Videos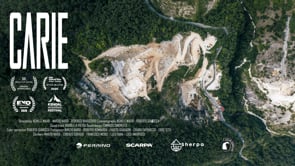 00:43
Carie (2020) - TRAILER
Map
NOTE: This section may contain affiliate links. Please, see disclosure on footer.
Classification
Genre
Based on
About
Locations
Film credits
DIRECTION
WITH (STARS)
Sponsors
Help us updating film data