Climbing Bridges
The story of Omercan Sakar
Climbing Bridges is a documentary about rock climbing that takes place in Bafa and Brooklyn Boulders. It was directed by Jesse O'Driscoll in 2015 and produced by Brooklyn Boulders. It features Omercan Skakar, Zorbey Aktuyun, Dave Graham, Jon Cardwell, Saïd Belhaj, Daniel Woods and others.
Availability
Videos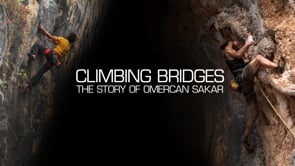 35:34
Climbing Bridges (2015) - FULL MOVIE
Map
NOTE: This section may contain affiliate links. Please, see disclosure on footer.
Classification
Genre
Based on
About
Locations
Film credits
DIRECTION
PRODUCTION
WITH (STARS)
Sponsors
Help us updating film data