Paul Kupsa has always loved testing himself, pushing himself beyond his limits using peaks and rock faces. In 'Brento Base Project' he exploits the steepness of the 1100 metre face of Monte Brento, north of Lake Garda, with the scope of exploring a new form of climbing – Base Soloing. By bringing together free climbing without safety ropes and base jumping, he discovers total freedom of movement. Kupsa climbs until he falls... but falling is not a mistake, it's a possibility!
Videos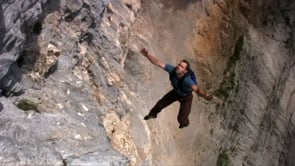 01:58
The Brento Base Project (2011) - TRAILER
Map
NOTE: This section may contain affiliate links. Please, see disclosure on footer.
Classification
Genre
Based on
About
Locations
Film credits
DIRECTION
WITH (STARS)
Help us updating film data
Other titles