Welsh mountaineer Eric Jones' ultimate dream is to climb the notorious North Face of the Eiger alone. Filming Eric Jones on his solo climb was a great challenge to cameraman Leo Dickinson, who had to be lowered from a helicopter to Death Bivouac, high on the mountain to capture Eric's progress on film. Leo Dickinson's film showed the scale of the achievement by seeing Eric Jones in his tiny perspective, a mere speck, against the magnitude of the mountain. The film also traces the history of the North Face including the early pre-war attempts that gave the mountain its notorious reputation. The climax of the film recreates John Harlin's 5000ft fall during the historic winter ascent of the Eiger Direct in 1966.
Availability
Videos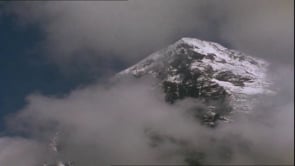 02:11
Eiger solo (1983) - TRAILER
Map
Video on demand
Verified links:
DVD / Bluray
Film may be contained in a DVD collection or appear as extras in a different DVD title.
Verified links:
NOTE: This section may contain affiliate links. Please, see disclosure on footer.
Classification
Genre
Based on
About
Locations
Film credits
DIRECTION
PRODUCTION
WITH (STARS)
Related Characters
Narration
Help us updating film data