SERIES | I shouldn't be alive
First date nightmare
Two climbers, Jeremy Colenso and Rachel Kelsey, go on a first date climbing in the Swiss Alps. They nearly summit a mountain, but are stopped by ice. A massive storm has formed in the valley below, and the climbers are forced to descend through the treacherous conditions. They end up trapped on a ledge waiting to be rescued.
Availability
Videos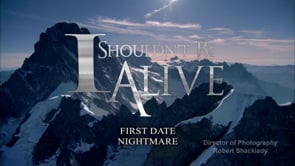 01:16
First date nightmare (2011) - TRAILER
Map
Video on demand
Verified links:
NOTE: This section may contain affiliate links. Please, see disclosure on footer.
Classification
Genre
Based on
About
Locations
Film credits
DIRECTION
PRODUCTION
WITH (STARS)
Narration
Help us updating film data
Other titles
Alive
Trapped in a high place
Sobreviví: Cita de pesadilla
Toujours vivant: Un premier rendez-vous en enfer
Je ne devrais pas être en vie
奇跡の生還者達
Přežít!: Noční můra první schůzky