Gone tomorrow
The Story of Kentucky Ice Climbing
Nearly every winter for just a brief moment, in Kentucky there are more frozen waterfalls than anywhere else in the lower 48 states, maybe even the whole world. For the last 40 years, small groups of dedicated adventurers have been searching out and climbing this ice with a determined passion, because they know if it's climbable today, it'll probably be gone tomorrow. This adventure documentary takes the audience for a ride deep into the bushy hollers of Appalachia with a crew of harmless misfits as they race to search out and climb new ice routes before they're gone.
Availability
Videos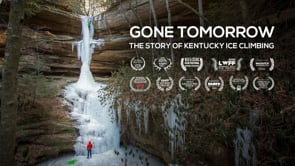 01:27
Gone tomorrow (2019) - TRAILER
Map
Video on demand
Verified links:
NOTE: This section may contain affiliate links. Please, see disclosure on footer.
Classification
Genre
Based on
About
Locations
Film credits
DIRECTION
PRODUCTION
WITH (STARS)
Sponsors
Help us updating film data