SERIES | Adventures
K2 - Triumph and tragedy on the savage mountain
Chris Bonington and Jim Curran trace the history of K2 expeditions from 1903 to the disastrous loss of life in the summer of 1986, when 13 climbers died on K2, climbing tragedies that aggressively carved the epithet the 'savage mountain' into the public consciousness. Jim Curran was hired by the British 'Fuller's K2' team to document their attempt on the unclimbed NW Ridge, so he was at the mountain, all summer. Inevitably, his documentary ended up drifting into a gripping narrative from the front line of the disastrous and tragic summer that killed 13 climbers on K2.
Availability
Videos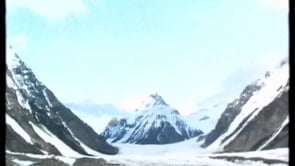 01:42
K2 - Triumph and tragedy on the savage mountain (1988) - EXCERPT
Map
NOTE: This section may contain affiliate links. Please, see disclosure on footer.
Classification
Genre
Based on
About
Locations
Film credits
DIRECTION
PRODUCTION
WITH (STARS)
Related Characters
Narration
Help us updating film data