SERIES | Marmot's Lead Now Tour (4/9)
Lead Now Stop 4 - Japan
Japan marks stop #4 of Marmot's Lead Now Tour, a global tour to inspire people through rock climbing and raise $10,000 a month for twelve different non-profit organizations. Learn about the culture of Japan through the eyes of both local climbers and Paige as a foreigner. From stunning scenery to unknown foods, Paige explores the customs and climbing throughout Japan and seeks to raise money and awareness for the Colorado flood relief efforts of the American Red Cross.
Availability
Videos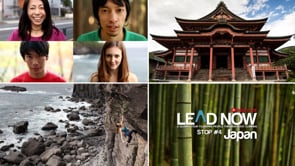 08:09
Lead Now Stop 4 - Japan (2014) - FULL MOVIE
Map
NOTE: This section may contain affiliate links. Please, see disclosure on footer.
Classification
Genre
Based on
About
Locations
Film credits
DIRECTION
PRODUCTION
Sponsors
Help us updating film data