Life in a legend's shadow
Opportunities may be handed to you a little easier when you're the son of a legend but that doesn't guarantee success. Being dragged to Pakistan at the age of 1 for a climbing expedition only to come home with Chicken Pox and being told 'You're never going to be as good as your father' would make any young child stay as far away from climbing as possible. Jess Roskelley the son of Legendary climber John Roskelley and the only American to receive a Piolet d'Or Lifetime Achievement Award for his climbing achievements thought the same way throughout his childhood until that one climb changed his entire life.
Availability
Videos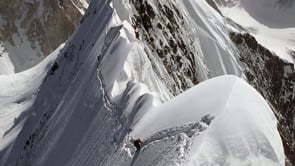 04:52
Life in a legend's shadow (2015) - FULL MOVIE
Map
NOTE: This section may contain affiliate links. Please, see disclosure on footer.
Classification
Genre
Based on
About
Locations
Film credits
DIRECTION
PRODUCTION
WITH (STARS)
Sponsors
Help us updating film data