Shared Vision – A Journey Beyond Sight
Red Szell suffers from the degenerative eye condition retinitis pigmentosa and is now blind. But he's always had an adventurous streak and in this inspirational journey, we see Red travel to the very NW corner of Scotland. As the first blind climber to reach the top of the iconic sea stacks of the Old Man Of Hoy and Old Man Of Stoer only Am Buachaille remains in the trilogy of these blades of rock that jut from the crashing Atlantic. Just reaching the base will involve a triathlon of sorts, with a mountain bike ride, a steep scramble down the mainland cliff before a swim across the tidal flow to reach the start of the climb. He then has four hours to get up and get off before the tide races in. Red's story is a journey beyond sight.
Availability
Videos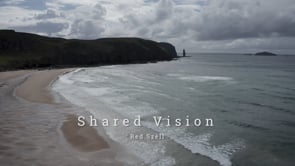 01:00
Shared Vision – A Journey Beyond Sight (2019) - TRAILER
Map
NOTE: This section may contain affiliate links. Please, see disclosure on footer.
Classification
Genre
Based on
About
Locations
Film credits
DIRECTION
WITH (STARS)
Sponsors
Help us updating film data