Something Old, Something New
West Virginia 5.14
Ben Spannuth recently landed in Fayetteville, West Virginia to hone his skills on the bullet hard, New River Gorge sandstone. Ben teams up with local legend, Mike Williams for a tour of the modern testpieces and the two help showcase some of the best hard routes in the country. For Ben, repeating established routes might be the first step to dialing in a new area but he is only satisfied when he can leave his mark by climbing old abandoned projects and bolting new lines of his own. Enjoy, something old, something new, something undone, and something with glue.
Availability
Videos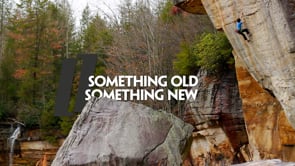 11:31
Something Old, Something New (2012) - FULL MOVIE
Map
NOTE: This section may contain affiliate links. Please, see disclosure on footer.
Classification
Genre
Based on
About
Locations
Film credits
DIRECTION
PRODUCTION
WITH (STARS)
Help us updating film data