The wildest dream
Conquest of Everest
After discovering Mallory's body on Everest in 1999, Conrad Anker's life became intertwined with Mallory's story. Mallory's frozen body was found with his belongings intact; the only thing missing was a photograph of Ruth, which Mallory had promised to place on the summit. Haunted by Mallory's story, Anker returns to Everest with British climbing prodigy Leo Houlding to discover the truth about Mallory and to unravel the mysteries surrounding his disappearance. Anker and his climbing partner take on the Second Step without the use of the fixed ladder; free climbing it to evaluate if indeed Mallory was capable of climbing the Second Step himself in 1924.
Availability
Videos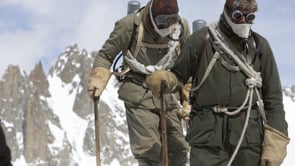 02:03
The wildest dream (2009) - TRAILER
Map
Video on demand
Verified links:
DVD / Bluray
Film may be contained in a DVD collection or appear as extras in a different DVD title.
Verified links:
NOTE: This section may contain affiliate links. Please, see disclosure on footer.
Classification
Genre
Based on
About
Locations
Film credits
DIRECTION
PRODUCTION
WITH (STARS)
Related Characters
Narration
Sponsors
Help us updating film data
Other titles
Der kühnste traum
La conquista del Everest
Mythos Mallory: Die eroberung des Everest
Die bezwingung des Mount Everest