A documentary about climbing in Colombia, South America, a cultural
trip and climbing tour. A team of seven Americans consisting of Kara Caputo, Jon Glassberg, Jonny Hork, Ben Hoyt, Nic Sherman, Jordan Shipman, and Carlo Traversi spent two weeks around the capital city of Bogota, searching or new boulders, establishing first ascents, and soaking in some of the best nightlife on the planet.
Availability
Videos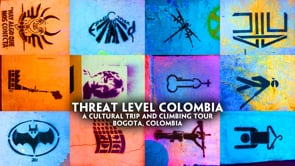 24:07
Threat Level Colombia (2011) - FULL MOVIE
Map
NOTE: This section may contain affiliate links. Please, see disclosure on footer.
Classification
Genre
Based on
About
Film credits
DIRECTION
PRODUCTION
WITH (STARS)
Help us updating film data