Beyond the Arctic Circle, time and erosion have sculpted veritable granite cathedrals overlooking immense glacial valleys. A magnificent natural spectacle, but also a major challenge for any climber. This is the adventure that Christophe Dumarest and Antoine Rolle lived on a big wall in Greenland. The Fox Jaws massif dominates a beautiful and isolated fjord there, on the east coast of the island. Verticale Boréale embarks on an unusual journey between sporting adventure, history of friends, and discovery of a once-secret territory, but fully open to exploration tourism.
Availability
Videos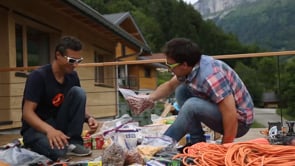 52:18
Verticale Boréale (2016) - FULL MOVIE
Map
NOTE: This section may contain affiliate links. Please, see disclosure on footer.
Classification
Genre
Based on
About
Locations
Film credits
DIRECTION
PRODUCTION
WITH (STARS)
Narration
Sponsors
Help us updating film data