Virgin Gorda - Paradise Bouldering
In May of 2011, Louder Than 11 traveled to the British Virgin Islands for some adventure bouldering on the island known as Virgin Gorda. Join Rich Crowder, Jon Glassberg, Amanda Berezowski, and Jon Wasser as they explore the beautiful white sandy beaches, searching for first ascents and adventure in one of the Caribbean's finest climbing destinations.
Availability
Videos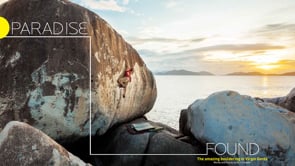 17:36
Virgin Gorda - Paradise Bouldering (2012) - FULL MOVIE
Map
NOTE: This section may contain affiliate links. Please, see disclosure on footer.
Classification
Genre
Based on
About
Locations
Film credits
DIRECTION
PRODUCTION
WITH (STARS)
Help us updating film data